Northern Virginia Wedding Limo Rental
Weddings are the stuff that dreams are made of.  Brides dream of beautiful floral arrangements, the perfect dress, spectacular weather...with friends and family as part of the most wonderful wedding ever.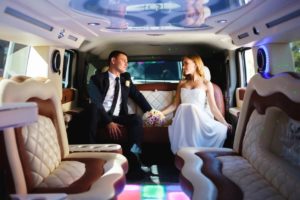 But limo service transportation issues are important as well. Arriving or departing the venue in a luxurious wedding limo adds a touch of class and another dimension to the experience.   It makes bride and groom feel like they're living a fantasy.   At Escort Limo, we'll provide a luxurious limousine ride, with a friendly and experienced chauffeur.  We'll handle all your limo transportation needs, so that you can just sit back, relax, and enjoy the grandest wedding entrance and exit imaginable.
And, we can provide wedding limo service throughout Northern Virginia and the DMV for everyone who is part of the entourage to help make the whole experience memorable for them as well.  We have over 29 years of experience providing wedding limo service.  We'll take the worry out of your wedding transportation, and help make your special day go smoothly.
At Escort Limo, we understand that wedding traditions and customs vary greatly between cultures. We will take the time to understand your needs and wedding plans, and provide your wedding limo service transportation with professionalism, efficiency, and friendliness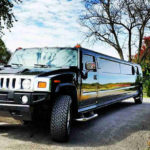 We're proud of our unblemished safety record, and our wide selection of vehicles can accommodate wedding transportation of all sizes.  We can supply multiple vehicles to get the couple -- and wedding party members -- where they need to be exactly when they need to be there.  If the wedding party wants to celebrate as a group the night before, or out-of-town guests need a wedding bus shuttle to and from the rehearsal dinner, Escort Limo of Northern Virginia will be there for all your wedding limo rental needs.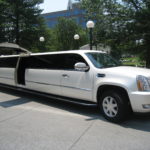 What type of wedding limo rental is best for you?  Generally speaking, most stretch limos can accommodate up to 20 passengers.  Our wedding limo buses can comfortable transport up to 30 people.  Our mini/party buses and motor coaches are great options for bigger groups.  Some of our wedding party buses feature wrap-around seating that will hold slightly fewer passengers, but they offer a fun environment for socializing along the way. When booking your wedding limo rental, be sure to specify the minimum and maximum number of people who will need transportation, and we'll we'll be glad to help you select the best vehicles for your wedding party.
The wedding limousine is as much a part of the American wedding tradition as throwing the bridal bouquet. On this most special day, you'll want to make sure that the bride, groom, and wedding party members arrive on time in style and comfort...and nobody does that better than we do.  Give us a call or submit the Click For A Free Quote form. We're ready to make your wedding celebration the best ever!